Friday, January 20, 2006
The Gift (PT)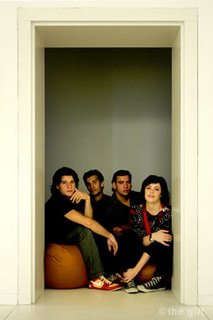 The Gift started 12 years ago, in 1994. Today they are Nuno Goncalves, Miguel Ribeiro, Sonia Tavares and John Gonçalves.

Storming the country from Alcobaça, they have released so far one EP, "Digital Atmosphere", and 3 albums, Vinyl, Film and AM-FM. The most interesting about them is that in the very beginning no label was interested in them, so they decided to release their albums by themselves, with their own financial support. The result was so good, that they stood this way, having only a label to distribute their material.

The Gift are one of Portugal's most inventive bands. They are synth pop and electronica. Songs that grab you from the very beginning, that invite you to dance. Some songs are more mellow, accompanied by orchestra, or simply by a string's quartet, others, pure instrumentals, just with keyboars. Imagine The Divine Comedy meets Portishead, and they all go for a walk with Moby.

Their albums have been produced, so far, by Nuno Goncalves, Howie B and Will O´Donovan. On Tour, they have played with Radiohead, Coldplay, Morcheeba, Massive Attack, The Flaming Lips and James, among others.

You can check now some of their songs right here.



AM-FM



WallPaper

1977

Driving you slow

11:33



Film



Question of love

Butterfly

The difference between us



Vinyl



Dream with someone else's dream

OK! Do you want something simple?

First Chapter

Their albums can be bought @ CD Baby. To go directly to their CDs, please follow the link on the albums' name above.
posted by SKL @ 4:08 PM