The EuropaVox Festival takes Portugal to France (PT@FR)

On its 1st edition, the EuropaVox Festival puts Portugal in the spotlights.

From Fado to Dub, from Rock to Folk, the new soundz of Portugal will travel up to France, to bring you live the following bands or artists:

Mariza - The new voice of Fado: June 3rd – La Coopérative de Mai.

Wraygunn - When Rock meets the Blues during a Gospel choir session: June 2nd – La Coopérative de Mai.

Invaders - A DJ/VJ set: May 30th – place du 1er Mai

Chullage - The new soundz of Hip-Hop: May 31st – La Coopérative de Mai

Micro Audio Waves - Electro, Pop,..... The Portuguese Avant Garde: June 2nd – La Coopérative de Mai

Three and A Quarter - Dub & Ska: June 4th – La Coopérative de Mai

Camponeses Minhotos - Portuguese folk music: May 30th – place du 1er mai

Do not let this chance go away........

All concerts are to take place at Clermont-Ferrand.
posted by SKL @ 12:29 PM
0 comments


Copa Reggae 2006 (ANG/BR/PT)

For all the Reggae crew out there.

Just found out today at Grandes Sons that Familia Fazuma are about to release a compilation cd with tracks in Portuguese from Angola, Brazil and Portugal.

This is the best way to celebrate the 2006 World Cup Germany.

If these sounds interest you, then listen to Musica Enrolada @ Radio Fazuma, Antena3. You can listen to it every Sunday at 12h (PT time).

You can still find some more info at their webpage.
posted by SKL @ 12:06 PM
0 comments


Saturday, May 27, 2006
Naifa - When Fado meets Pop (PT)

From time to time, some try to renew Fado. Some make it , others don't. Ovelha Negra did it but didn't live that long.

A Naifa has been doing it and this year they released their second album "3 Minutos antes de a mare encher", after the sucessful debut album "Cancoes subterraneas".

Recently, after a trip to Portugal, I took with me back to Poland "3 Minutos antes de ....". And what a suprise!!!

If Musica, at "Cancoes subterraneas", was an instant hit, now, Monotone and A verdade apanha-se com enganos do the same for this "3 Minutos antes de .....".

Imagine those sounds of Fado and of the Portuguese guitar. Imagine the best of Pop. Now imagine them getting together. Did you manage to? Then, you've found A Naifa.

Catch them @ their MySpace, where you can listen to 3 tracks from their newest album, and still to the magnificent Musica. The video for this track can be seen here, right bellow, at Music@PL.PT.

Listen to the a preview for all their tracks right bellow, and go get the album.

1 - Um
2 - Da uma da noite às oito da manhã
3 - Monotone
4 - Fé
5 - Antena
6 - Quando os nossos corpos se separaram
7 - Todo o amor do mundo não foi suficiente
8 - Señoritas
9 - A verdade apanha-se com enganos
10 - Calças vermelhas
11 - Porque me traíste tanto


Get this video and more at MySpace.com
posted by SKL @ 11:07 AM
1 comments


Friday, May 26, 2006
Ping Pong, the video by X-Wife (PT)
posted by SKL @ 9:25 AM
0 comments


Zbigniew Karkowski (PL) visits Lisbon tonight @ ZDB

Zbigniew Karkowski, composer and performer of contemporary music, was born in Cracow but soon emigrated. Since then, Sweden, Netherlands, Germany, France, USA and last Japan have been his chosen places.

He studied music and composition for many different teachers and composers in Poland, Sweden, France and Netherlands.

As you can find @ his webpage, "... He is not interested in traditional definition of what is music, in his opinion all theory and systems of music as a cultural concepts have to be destroy ed. So in his latest work his main concern is on realizing drama with sound electronic and acoustic walls with scores based on architectures of ruins...."

Tonight, at 23h at Galeria ZDB, together with Man Manly (AU) and Noid (AT).

Entrance 5 Euros.
posted by SKL @ 8:50 AM
0 comments


Wednesday, May 24, 2006
This week on 1, 2, 3...... @ MySpace

This week we kick off the MySpace series with Nun's electro sounds and then we go darker, faster, with B.E.T.H. and Dapunksportif.

Nun (PL)

Nun are a duo from Wroclaw, the city where electronic music never sleeps. Magda Kaspryszyn and Olaf Karbowiak will release this June the album "Sunlight", an album that breaths electro sounds and 80's pop, Ladytron and Gary Numan. Certainly, it'll make our Summer something sweeter.

We've heard some of these tracks at their MySpace and @ their webpage and we recommend it. Have a look at tracks such as Burn or Stop.




Dapunksportif (PT)

Paulo Franco, on lead vocals and guitar, Joao Guincho, on guitar and vocals, Joao Leitao, on bass and vocals, and Pedro, on drums, will release this June "Ready!Set!Go!", a 7 track cd where fast guitars, screaming wild vocals, drums on the loose combine themselves to deliver one of the most enthusiastic cds to be released this year.

Go to their MySpace and check it by yourself. Tracks like I can't move or Summer boys are certain to make you dance.

Check them live at the Festival Super Bock Super Rock, or at Clube Mercado, Lisbon, on the 16th of June during their album release party.


B.E.T.H. (PL)

This year Poland is delivering some of the best rock albums released in this country for the past recent years. After the release of Jesus Chrysler Suicide's cd, another band has come up with an exciting album.

B.E.T.H. are Svistak Marcin, on vocals, Piotr Mossakowski, on bass, Hubert Zielinski, on guitar, Sebastian Miecznik, on guitar, and Robert Szymanski, on percussion. This year they released "Beth", the self-titled cd that combines the energy and sound of Sepultura, Korn, Pantera and System of a Down. In case you want to confirm it, check Nie przemocy.

Pure energy..................... in Polish.
posted by SKL @ 2:52 PM
0 comments


Sunday, May 14, 2006
When PL meets PT @ the movies

The 11th European Film Festival

From the 9th of May until the 4th of June, the European cinema will visit several cities in Poland.

Warsaw, Krakow, Poznan, Torun, Gdynia and Lodz will have the pleasure to host such a festival. This will be the occasion to see some of the best Polish films released recently and to see one of the best Portuguese films from recent years.
"Noite Escura -In The Darkness of the Night", by Joao Canijo made it to the Festival, to the main Competition . We strongly recommend this film from 2004.

Your Name is Justine (Masz na imię Justine), directed by Franco de Peńa can be found on Competition as well.

Then we can find some other films like Jasminum, directed by Jan Jakub Kolski on the section Panorama of European Cinema, It's me now (Teraz ja), directed by Anna Jadowska and We're all Christs (Wszyscy jesteśmy Chrystusami), directed by Marek Koterski.

There will be as well the chance to review the 3 Colours triology by Krzysztof Kieślowski on the section Master of European Cinema.

The 5th Lisbon Animation Film Festival



Then in Portugal, we head out to Monstra06, the 5th Lisbon Animation Film Festival.

This year, the festival will be focused on Polish Animation.

From the 16th to the 21st of May, at Forum Lisboa - Avenida de Roma in Lisbon, a good occasion to see some of the best animation coming from Poland, with around 80 films to be shown. Films from Jerzy Kucia, Piotr Dumala or Zbig Rybczynski with "Tango" will be shown here. There will be as well the occasion to see some classics such as Bolek and Lolek or Reksio.
posted by SKL @ 7:36 AM
0 comments


Friday, May 12, 2006
Ovo - What did come first? Chicken or egg? (PT)

Doesn't matter after all.......

"Ovo" - egg in English - is Ovo's self-titled debut album. It distinguishes itself from the material previously released mainly on the lyrics and melody.
Lyrics now, are taken more seriously, some tracks are more electronic than before, some songs not as melodic and the vocals, sometimes, seem too mechanical. Nevertheless, "Ovo" is stil a nice record.

You can listen to it and download it if you like @ Ovolandia. We recommend "Cheguei a um ponto".
posted by SKL @ 4:02 PM
0 comments


Myslovitz - To have or to be (PL)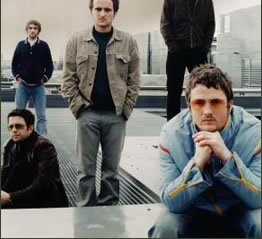 Myslovitz are back with a new album, "Happiness Is Easy", released on the 12th of May.

We haven't listened to the album yet, but the first single, "Miec czy byc", seems quite interesting.

For now, we let you with the video for it. Check it out on the screen.....

They're now on tour, taking their latest record to a city near you.
All cities where the country is not indicated, means that the concert will take place in Poland.

15.05.2006 Katowice
16.05.2006 Opole
17.05.2006 Lublin
18.05.2006 Rzeszow
19.05.2006 Wroclaw
20.05.2006 Warszawa
21.05.2006 Czestochowa
24.05.2006 Peer (Belgium) @ the Poorthuis Festiwal
26.05.2006 Bedzin
27.05.2006 Nowa Ruda
28.05.2006 Ostroleka
01.06.2006 Wabrzezno
02.06.2006 Lodz
03.06.2006 Zarow
04.06.2006 Opole
10.06.2006 Poznan
11.06.2006 Ostrow Wielkopolski
12.06.2006 Dublin (Ireland)
14.06.2006 Jersey (USA)
15.06.2006 London (England)
17.06.2006 Nasielsk
18.06.2006 Pszczyna
01.07.2006 Lowicz
02.07.2006 Zgorzelec
07.07.2006 Gdynia
09.07.2006 Hel
14.07.2006 Wegorzewo
15.07.2006 Grunwald
16.07.2006 Darlowo
22.07.2006 Dziwnow
23.07.2006 Miedzyzdroje
28.07.2006 Miedzychod
29.07.2006 Swinoujscie

Soon, the album review.
posted by SKL @ 3:26 PM
0 comments


Thursday, May 11, 2006
Bandex and BangGuru - Live @ SB (PT)

Tomorrow evening @ SB (Parque das Nacoes - Lisbon), two of the most interesting Portuguese new acts, Bandex and BangGuru, will be taking over the night.



Bandex


Rumba, hip-hop, dub, salsa, rock, jazz. All in one. All in Bandex. All this Friday.
More info on Bandex here.

Music@PL.PT recommends Nite Line, American Flag and Chico Bam Bam. All the album plus several remixes available for download on their site.




BangGuru


With the debut self-titled album released by Chiado Records (home for Bandex as well) BG are more focused on electronic sounds. Listening to their debut album seems like going on a trip through the sounds of world music, mellow electronic pop and electro beats from the 90s. Basically, a band to watch for.

Music@PL.PT recommends in this case Beam of Life, Target Love and Isn't That So Nice He Said?

Their EPs can be downloaded from the Netlabel iDEOLOGY. Highly recommended!!!
posted by SKL @ 11:37 AM
0 comments


Wednesday, May 10, 2006
This week on 1, 2, 3...... @ MySpace





Kussundulola (ANG/PT)
Led by Janelo Da Costa, they were responsible for the rise of reggae in both ANG/PT. As you can find on their MySpace, "..History started many years ago... Somewhere in the territory the one that today we call Angola".

On their player, 2 tracks out of their new album "Guerrilheiro". On their site, the preview for some of their classics such as "Dancam no Huambo", "Perigosa" or "Nos Somos Rastaman".






Mitch & Mitch (PL)
"It would all have been different if Jobim hadn't written 'Desafinado'... but he had. Mitch & Mitch (at that time Macio Moretti and Bartek Magneto – one half of Starzy Singers) met determined to record the classic tune for the needs of the Azorro film group. Until now they have not succeeded to do so. Instead, they were born again to sing of the road, nostalgia, love, sentiments and TV at the barber's."

Mitch , Mitch, Serious Mitch, Mrs. Mitch and James Boned Mitch bring us the future of rockabily; rock 'n' roll from out of space.

Listen to "I'm 30 I'm lonely I...." or "Oh Yeah" and you'll know why. We also recommend "Speedway", their tribute track to Partia.

Lots of other goodies available for download @ their video/sound section and even their biography in Portuguese.






Spartak! (PT)
They were "Born in the XXI Century..."

They are Tiago Matos, Marcio Duarte, Wagner Fernandes, Miguel Nicolau, Nuno Ruas and Carlos Sousa.

They are pop meets electronica; They are Madchester XXI century; They ......

.... have their EP "Spartak!One" available for download @ their website.

Music@PL.PT recommends the tracks "King Tubby" and "Spartak!One". Play them and do not stop!!!
posted by SKL @ 2:58 PM
0 comments


1, 2, 3...... @ MySpace
Every week...... 3 bands to be showcased here

Every week...... 3 bands that can be found @ MySpace

Every week...... more sounds coming out of Music@PL.PT
posted by SKL @ 2:46 PM
0 comments


Cibelle and the shining electric leaves (BR)

Who would guess electric leaves (!!!) do shine? Well, Cibelle did it....... and has chosen the best way to share it with us, on her new record.

"Shine Of The Electric Dried Leaves" is Cibelle's second album. After her self-titled debut album and the EP "About a girl", she's back with 14 new tracks on a quite captivating cd.

With the help of Devendra Banhart (London, London, a Caetano Veloso cover), Spleen (Mad Man Song) and Seu Jorge (Arrete la, Menina), Cibelle presents us with an album where jazz, pop, samba, bossa nova, blues meet and celebrate music altogether.

The records opens up with a superb version of Tom Wait's "Green Grass". The sound of the bandolino keeps us company while her sweet and unforgetable voice enchants us. The music continues then with such pearls as "London, London", "Arrete la, Menina" or "Minha Neguinha".

"The Shine of ...." together with Marisa Monte's "Infinito Particular" and "Universo ao Meu Redor" are among the best music to be released this year by Brazilian artists.

You can listen to some tracks on her Myspace or right here. "Green Grass" can be found on the "La la la la la" section.

Album tracklist and previews:

01 - Green Grass
02 - Instante De Dois
03 - Phoenix
04 - London, London (with Devendra Banhart)
05 - City People
06 - Minha Neguinha
07 - Mad Man Song (with Spleen)
08 - Por Toda Minha Vida
09 - Flying High
10 - Arrete La, Menina (with Seu Jorge)
11 - Esplendor (Yann Arnaud mix)
12 - Train Station
13 - Lembra
14 - Cajui­na

Still some other tracks to help you discover Cibelle:

So Sei Viver No Samba
Noite De Carnaval" (Matthew herbert mix) (preview)
posted by SKL @ 1:13 PM
0 comments


Tuesday, May 09, 2006
M.A.U. - Man And Unable (PT)

M.A.U. are back.

After the release of their demo back in 2004, Man And Unable will be released on the 15th of May by Universal.

Check their Myspace and listen to 4 tracks out of their debut self-titled album. The track "I need a priest" is a must.

Meanwhile, they will play live on the 17th of May (Wednesday) at Paradise Garage in Lisbon, PT. If you'd like to go, please send them an email to mau_project@hotmail.com and let them know how many invitations you'd like to receive.
posted by SKL @ 2:56 PM
0 comments


Monday, May 08, 2006
The party is about to start - Juwenalia (PL)


Every year, in May, Poland is taken over by the student parties known as Juwenalia.
This year is no exception and Music@PL.PT presents you some of the most atractive events to watch for within the next few days @ the following cities:


For the complete programmes, please click on the city name

Gdansk

Indios Bravos, Vavamufin (18/05) and Lona(19/05) among many others.

Katowice

Hurt and Happysad (17/05); Negatyw and Kult (18/05); and Strach na Lach and Lady Pank (19/05)

Krakow

Vavamuffin (09/05); Pidzama Porno, Kanal Audytywny and Abradab (10/05); Akurat, Hey and Negatyw (11/05); Lady Pank, Hurt and Natty Dread (12/05) and T.Love (13/05)

Poznan

Sydney Polak and T.Love (16/06) and Hey (17/05)

Szczecin

Kult, Habakuk and Pidzama Porno (24/05) and Pogodno (26/05)

Warszawa

Habakuk and Sistars (11/05); Armia (12/05); Indios Bravos, Happysad, Lady Pank and Dzem (13/05); Pogodno and Hurt (18/05); T.Love, Akurat, Paprika Korps and Vavamufin (19/05); Hurt, Jamal, Stach na Lach, Kayah and Myslovitz (20/05)

Wroclaw

Ira (10/05); Lao Che and Sidney Polak (11/05); Kult and Homo Twist (12/05) and Habakuk (13/05).

If you cannot make it to most of these concerts, try to check those in bold as a recommended daily diet.
posted by SKL @ 2:10 PM
0 comments


Music Festival Season - SBSR 06 (PT)
The music festival season is about to start in Portugal. This year will kick off with the 12th edition of Super Bock Super Rock, with a new format: 4 days, 2 acts.

Music@PL.PT strongly recommends the stage Palco Quinta dos Portugueses with the following concerts:

Act 1 - 25th of May (dedicated to heavier tunes)



Bizarra Locomotiva
Cinemuerte
Twentyinchburial
Devil In Me



26th of May (dedicated to the new rock tunes)


Vicious Five
X-Wife
If Lucy Fell
Dapunksportif

Act 2 - 7th of June (dedicated to the rock 'n' pop tunes)



Legendary Tiger Man
Linda Martini
Peace Revolution
The Weatherman



8th of June (dedicated to hip-hop and reggae)



Mind da Gap
Factos Reais
Mercado Negro (PT/ANG)
DJ Bomberjack with Sir Scrath, Black Mastah and SP&Wilson



And on the Main Stage - Palco Super Bock

Act 1 - 25th of May



Soulfly (BR)
Moonspell (PT)
Ramp (PT)



26th of May

Primitive Reason (PT)
Act 2 - 8th of June


Boss AC (PT)
Kalibrados (ANG)


Festival taking place at Parque do Tejo - Parque das Nações (Lisbon)

More information at Musica no Coracao
posted by SKL @ 1:19 PM
0 comments


Take a break Pt.2
posted by SKL @ 1:06 PM
0 comments


Take a break
Cancan by
Rui Ricardo
posted by SKL @ 12:46 PM
0 comments


FIMFA LX06 - International Puppet Festival

The International Puppet Festival is coming to Lisbon.

The puppets are loose from the 11th to the 28th of May, 06.

Catch them, or be caught.
posted by SKL @ 12:24 PM
0 comments