Tuesday, January 31, 2006
Who Knew Game Boys Could Rock? (PL)

The Gameboyzz Orchestra Project knew.

"Gameboyzz Orchestra Project is an experimental sound - visual project, basing on the use of GameBoy console as a music instrument."

Minimal Techno, bip bip bip, tan tan tan, tss, tss, tss. Highly addictive.

And here is the soundtrack.

Passt,_wackelt_und_hat_Luft!
surowka_v1_(mikrokilla_mix)
polish_tank!

In concert

in Duesseldorf

Moeblierte Kindheit

Labels: News
posted by SKL @ 3:07 PM
0 comments


Warsaw Village Band (or Kapela Ze Wsi Warszawa) (PL)

Back in 1997, six musicians from Warsaw dreaming about music combining Poland's traditional sounds with new ideas got together and formed Kapela Ze Wsi Warszawa, or a.k.a. Warsaw Village Band.
Their sound, which they define as hip-hopsasa, (meaning - let's dance, which is polish traditional invitation to jump), follows the route of such groups as Hedningarna or Varttina. Using traditional Polish instruments such as the old Polish suka fiddle, the cello, outlandish drums, synthesizers and the violin, they play folk dance melodies , ballads and rural songs.

Warsaw Village Band are Maja Kleszcz, on cello and vocals, Magdalena Sobczak, on dulcimer and vocals, Sylwia Swiatkowska, on violin, old polish fiddle and vocals, Wojciech Krzak, on violin, hurdy gurdy and jews harp, Piotr Glinski, on baraban drum, and Maciej Szajkowski, on frame drum.

Having released 3 albums so far, HopSaSa, Wiosna Ludu ("Peoples' Spring") and Wykorzenienie ("Uprooting") , their talent has already been recognised worldwide, being awarded a BBC World Music award in 2004.

You can listen to the following tracks here on Music@PL.PT

The Owl, from their latest record Uprooting, and the following tracks released previously, Untitled (couldn't discover the title), Przyjdź Jasieńku, Styry konie, Jechali, Baby Powolniak, Stara Baba, Warzyła Baba Lebiode and Ober Jasionowy.

You can buy their material right here.

Labels: News
posted by SKL @ 1:49 PM
1 comments


Saturday, January 28, 2006
The Car Is On Fire (PL)

The Car is on Fire's debut album was voted as one of the best Polish records in 2005.

I've listened to the album many many times, and still, there's something about it that does not sound ok.

Live, they are quite good. I've seen them in concert and I got quite a good impression about it.

So you might ask me, what is wrong with them? Well, it might be me, but I cannot stop disliking they way they sing. Exception: Miniskirt and Cranks. These two tracks are full of energy, guitars that sound as if they were on the very limit, being pushed and sounding desperate, chorus that grab you from the very first moment, and a vocalist that looks sure of himself. Check Miniskirt at the audio section at their site.

If all the album would be like these 2 tracks, it would have been, for sure, on my "Best Records of 2005 " list.

Here's the tracklist for their self-titled debut album (If you'd like to listen to some excerpts from the album, click here):

1. No one got hurt, fortunately
2. Miniskirt
3. Scarlett O'Hara
4. Cranks
5. Ellinor
6. At this time
7. (Escape, escape)
8. Miss Nevada
9. Sexy flawless waitress rules
10. 16 days & 16 nights
11. Break up with him (the break-up song)
12. Sell sell sell
13. Expect some hatred
posted by SKL @ 3:01 PM
0 comments


Conjunto Ngonguenha (ANG, PT)

Ngonguenha - A delicious and nutricious mixture of flour, sugar and water.

Ngonguenha also happens to be the name of a musical group, known for their hip hop with a strong link with Angola.

Conjunto Ngonguenha started in 2001. Ikonoklasta, 'L', Mayanda and Conductor brought us a record, released in 2004, sounding as if had travelled all the way from Angola to Portugal.

Their songs reflect the happiness of a country, never forgetting their problems. They handle it in such way, not accessible to many out there.

Here's the track list for Ngonguenhacao, in radio session format, and 3 tracks for download:

01 - Inicio da Ngonguenhacao
02 - Ecos & Factos
03 - Brinca na Areia
04 - Colagem
05 - Nos e Voces
06 - E dreada ser angolano
07 - Fugueiro
08 - FTU-Nzamba2
09 - Os 4 Elementos
10 - Jetu-Jetu
11 - Choro de um Continente
12 - Nos e Voces (O apelo)
13 - Kanguei o Maiky (Highly Recomm.)
14 - Fim da Emissao
posted by SKL @ 9:49 AM
7 comments


Friday, January 27, 2006
Project M.A.U. (PT, ..........)

Portugal version 2006 promises to be known as the year electro and synths took over the musical scene. U-Clic, Woman in Panic, and now Man And Unable (M.A.U.) are to release their debut albums still this year.

Imagine electro reviewed by Stacs of Stamina, pop a la carte by Vive La Fete, Kraftwerk's synths and a French Hip Hop connection. The result? M.A.U.

Their original 5 members (Jonas, Luís Fonseca de Sousa, Pablo, Pia M. P. Mechler and Shir Comay) met in Denmark, in 2003, at the European Film College. One year later, they'd be playing live for the first time as M.A.U.

Today M.A.U. is Luís F. de Sousa, on vocals, programming, accordion and writing process, Pablo Camp, on vocals, António Soares, on guitar and backing vocals, Fernando César, on drums, Pia, whenever possible, on vocals, Lamy , normally supporting the band live, playing keyboards and backing vocals, and Shir helping on the lyrics.

Due to the fact that some of its elements are far away from Portugal, they often have different guests helping them live. This gives more emphasis to the idea of project.

Their first record shall see its release this year. Flak and Carlos Morgado are responsible for the production, whereas Tó Pinheiro for mastering.

You can listen now on the speakers the track "I need a priest", but you can download it as well here, alongside with 2 more tracks, from their first demo.

Corporation in Heat

I Need a Priest

Lama

On their Myspace site, you can listen to a new track, Control, from their self-titled debut album.

Highly recommended by Music@PL.PT

Labels: News
posted by SKL @ 7:43 PM
1 comments


Just in case - Andrzej Dragan

If you happen to be in Krakow, drop by Pauza, and check the exhibition on Andrzej Dragan's photography work.

If you do not have the chance, check his work at his website or at Webesteem Art Magazine, on his exhibition in Warsaw.

Labels: photography
posted by SKL @ 6:22 PM
0 comments


Portuguese music video party !!!!

Just discovered this wonder today!!!

Sinfonias de Aço. Press Videoclips and discover some of the best Portuguese videos so far.

Here you can check bands such as Bullet, Primitive Reason, Olga, U-Clic, Dead Combo, Moonspell, X-Wife, Hipnotica, among many others.

Please take a seat and enjoy the music!!!!!

Labels: News
posted by SKL @ 6:11 PM
0 comments


Thursday, January 26, 2006
Um Dia a Casa Vem Abaixo (PT)

It's already tomorrow.

"Um dia a casa vem abaixo", is a new music festival taking place in Lisbon, Portugal.

On each day, 3 bands. Bypass, Olga, Lemur, Loosers, Linda Martini and Caveira.

Take some time and check the new sounds of PT, version 2006.

Concerts at Caixa Económica Operária

On the 27th and 28th of January – Starting @ 22h

27/01/2006, Friday

BYPASS
ÖLGA
LEMUR

28/01/2006 - Saturday

LOOSERS
LINDA MARTINI
CAVEIRA

Tickets

1 day – 8€
2 days – 12,5€

Labels: concerts
posted by SKL @ 12:24 PM
0 comments


Sunday, January 22, 2006
Silver Rocket. Heading towards the sky (PL)

Silver Rocket is the project of one man, Mariusz Szypura. Previously playing on Happy Pills, a group on the universe of the Pixies, Galaxie 500 and Sonic Youth, he is to release, this month, Silver Rocket's second album, Unhappy Songs.

For this release he invited some of the best Polish artists nowadays. Ania Dąbrowska, Marsija from Locostar, Novika, Tomek Ziętek, from Pink Freud, Kasia Nosowska, Old Time Radio,....

In concert, he has had the pleasure to support Mum, The Sea And Cake, Mogwai and Arab Strap, among others.

Unhappy Songs is full of beautiful atmospheric pop songs, mellow sounds, guitars, ..... There's Mercury Rev in the air, eyes to Billy Idol, and synths on the encore.
It is difficult to listen to such tracks as "Nothing is forever" and not to close one's eyes and dream.....

The album can be bought here, at Sklep Terra, from the 27th of January.

You can find him, in concert, on the 21st of February, in Warsaw, Poland, at Fabryka Trzciny.

Meanwhile, here are some appetisers:

From Unhappy Songs

Hello

Nothing is forever

Grace

Now

Faraway

Eyes without the face

So close to say I'm happy

Encore

Emotionless

Sunflower

Paradise

From Astonaut's Diary

Gaudi

Secret life of electronics

The early X-Ray techniques

From Electronic for dogs

Not ok 3000

The deconstruction set

Remixes

Myslovitz - I'd like to die of love (excerpt)

Locostar - Simply Logic

Smolik - Kremowa Rewolucja (excerpt)

Old Time Radio - Snowy

Mogwai - Hunted by Freak

Pink Freud - Tribute to Don Jonson (excerpt)

Labels: albums
posted by SKL @ 1:05 PM
0 comments


A different approach towards Portuguese music
Terrakota @ Festival Tejo
Blasted Mechanism @ Santiago Alquimista
X - Wife @ Santiago Alquimista
Wraygunn @ Santiago Alquimista
Pop Dell Arte @ Forum Lisboa

Recently I discovered a very interesting blog on Portuguese music by the name of ISO 800. The most interesting about it is that words are not necessary.

Hugo Amaral greets us with a superb photo collection. Our best music, captured wonderfully. The photos speak by themselves.

One can find here the likes of Mão Morta, The Vicious 5, Blasted Mechanism, DJ Nel Assassin,..., among many others. Have a look at his blog for the complete picture.
Labels: concerts, photography
posted by SKL @ 12:13 PM
0 comments


Cool Kids of Death (PL)

Rock is something C.K.O.D. know about, even though their name comes from the British pop band, St. Etienne.

They started in Lodz, in 2001, having released their debut album the year after. So far, they have released 2 records, "C.K.O.D." and "C.K.O.D. 2", and a special release for foreign market, which gathers themes from the 2 albums mentioned previously, plus a new track.

These boys are Krzysztof Ostrowski, on vocals, Jakub Wandachowicz, on bass, Marcin Kowalski, on guitar, Jacek Fras, on drums, Kamil Lazikowski, on keyboards, and Wojciech Michalec on guitar.

Proud of having some of their tunes already played on Steve Lemacqs program at BBC 1 FM, this year's album shall see C.K.O.D.'s third album. This is already on my waiting list.

To know more about their sound, check out the next mp3s:

Excerpts

C.K.O.D.

The Salvation Army

Stones and Bottles Filled with Petrol

Remixes

Cool Kids Of Death - Kokaina z kokakola methadone RMX

Cool Kids Of Death- Uwazaj - methadone rmx

Visit as well their webpage for more tracks, and for their video section.

Tracks excerts from their international CD:

1 - Cool Kids Of Death: Stones And Bottles Filed With Petrol

2 - Cool Kids Of Death: The Salvation Army

3 - Cool Kids Of Death: Generation Nothing

4 - Cool Kids Of Death: Twenty And Than Some

5 - Cool Kids Of Death: It Never Happens To Us

6 - Cool Kids Of Death: Cool Kids Of Death

7 - Cool Kids Of Death: Illegal

8 - Cool Kids Of Death: Its Not Worth

9 - Cool Kids Of Death: Look Out

10 - Cool Kids Of Death: Disorder (with Procesor Plus)

11 - Cool Kids Of Death: Dead Disco (polish Version)

12 - Cool Kids Of Death: The Salvation Army Methadone Remix
posted by SKL @ 7:35 AM
0 comments


Friday, January 20, 2006
The Gift (PT)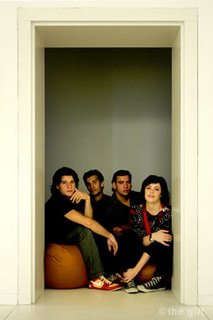 The Gift started 12 years ago, in 1994. Today they are Nuno Goncalves, Miguel Ribeiro, Sonia Tavares and John Gonçalves.

Storming the country from Alcobaça, they have released so far one EP, "Digital Atmosphere", and 3 albums, Vinyl, Film and AM-FM. The most interesting about them is that in the very beginning no label was interested in them, so they decided to release their albums by themselves, with their own financial support. The result was so good, that they stood this way, having only a label to distribute their material.

The Gift are one of Portugal's most inventive bands. They are synth pop and electronica. Songs that grab you from the very beginning, that invite you to dance. Some songs are more mellow, accompanied by orchestra, or simply by a string's quartet, others, pure instrumentals, just with keyboars. Imagine The Divine Comedy meets Portishead, and they all go for a walk with Moby.

Their albums have been produced, so far, by Nuno Goncalves, Howie B and Will O´Donovan. On Tour, they have played with Radiohead, Coldplay, Morcheeba, Massive Attack, The Flaming Lips and James, among others.

You can check now some of their songs right here.



AM-FM



WallPaper

1977

Driving you slow

11:33



Film



Question of love

Butterfly

The difference between us



Vinyl



Dream with someone else's dream

OK! Do you want something simple?

First Chapter

Their albums can be bought @ CD Baby. To go directly to their CDs, please follow the link on the albums' name above.
posted by SKL @ 4:08 PM
1 comments


More on U-Clic (PT)

U-Clic already have their site on MySpace. You can listen to the new tracks "Like", "Pixelized Scenario" and "Unfashionautic Superstars" from the coming debut album "Console Pupils".

Good appetiser for one of 2006's awaited debuts.

Labels: News
posted by SKL @ 2:25 PM
0 comments


Favela Funk (BR)
In Brazil's shantytowns (favelas) exists an incredible ghetto movement, known as Baile Funk.
Heavy bass sounds, heavy 80's sampling, rhymes that are not sung but screamed, explicit lyrics and bubblegum electronic music tranformed this into the next big thing.

It is known for gathering something like 1.5 million people every weekend, on its more than 300 parties, on the hills of Sao Paulo. Even though it has been prohibited by the police, hardly anything can be done to move any of those spending their time swinging to the sounds of funk.

One of its most known DJs is Luis Mattos da Matta, A.K.A. DJ Marlboro, having already played worlwide his funky mad vibes.

Meanwhile, On the speakers.... Favela on Blast by Diplo.

To known more about this, specially the music, check the site Funky do Morro.

I strongly recommend the tracks out Funk Neurotico

Download here the compilation "As melhores do la"

01_vinheta_bagulhao
02_tomazinho_100%_nike
03_rua_lucia_tabajara
04_asfalto_de_ramos
05_cabo_frio_zezinho
06_7_de_abril
07_casinha_da_baixada
08_chiquititas
09_sao_carlos
10_rua_11_lobo_mau
11_cruz_vermelha_bomba
12_pracinha_57
13_macumba_despacho
14_fazenda_de_inhauma
15_higienopolis_funil
16_parque_sao_vicente
17_sargento_roncale
18_iraja_amarelinho
19_jacare_ex_combatente
20_jardim_leal_guacha
21_sao_jose_mangueira_light
22_lins_pam_de_pilar
23_pavuna_sadam_hussein
24_santa_amelia
25_urucrania
26_macaco_o_baile_\351_nossa
27_porradao_de_som
28_vila_assembleia
29_vigario_geral_mike_tyson
30_maracana_praca_hilda
posted by SKL @ 11:11 AM
1 comments


Thursday, January 19, 2006
Speto, Art.... right out of Brazil
Every now and then, I'll try to show something new.

This time, it's up to Speto.

"I was 14-years-old when I first started to paint graffiti. My roots come from hip-hop, from the old school, from seeing films like Beat Street. And from skateboarding, which to me seemed to be all about fun, and being a free spirit. Skateboarding also led to a lot of innovation in graphic art, and encouraged us to play with techniques, to develop effortless flair. The good thing was that we did not have much information, which helped to build our style."

"Brazil is a real mix of cultures, and I'm so blessed to have so many kinds of inspiration around me. Sao Paulo unites many people from Brazil and from around the world. With four million cars and 19 million inhabitants, it never stops. Legends and myths are a strong source of stimulation, as are cartoonists like Chico and illustrators like grilo, who have a very strong ironic style. I've also been greatly inspired by the Cordel poetry booklets that are sold in craft stalls in the countryside here. Everything I see influences me. I'm always searching for innocence or dignity in simple things and in people too."

More on Fact Magazine
posted by SKL @ 4:02 PM
0 comments


Online Magazines (PL + PT)












Recently I subscribed the online magazine Le Cool Magazine.

Weekly, a newsletter with what's cool on your city (Lisbon, Barcelona, Madrid and Amsterdam) - Cinema, exhibitions, theatre, music, promotions,....... graphically quite interesting, it is its content that makes it so special.

This week, Fritz Lang's Metropolis and Match Point, Woody Allen's latest film, Vicious 5 and 3dO live, the pub Onda Jazz and books on sale, but...... all in Portuguese.

If you are thinking on subscribing it, follow this link.

Since this post concerns magazines, welcome Parasol Magazyn. In Polish, but with lots of extras that can make anyone happy. The radio section and the video section bring us this month, respectively, The Strokes, Artic Monkeys, Jamie Lidell, Hard-Fi, Arcade Fire, Milo,...among others, whereas the radio station, Gang of Four, The Belle and Sebastian, Silver Rocket (PL), Kate Bush, Coldcut, Tiga, Madlib,...... I recommend the track by the Polish band Silver Rocket.

You can check as well, their Best of 2005, on which the self-titled album by The Car is on Fire has been chosen as Poland's best album of the year.

Apart from it, an article on The Strokes, on the musical scene on the 80's, Gilles Peterson and on "Sympathy for Lady Vengeance", Park-Chan Wook latest film.

The magazine concept is amazing. You can simply read it, page by page, as if it was made of paper.

The other 2 editions can be checked here, #1 and #2. You can subscribe it as well, on the last page of the magazine.
posted by SKL @ 3:12 PM
0 comments


Bor Land (PT)

It's been 5 years since Bor Land's first steps.

The year was 2000, in Oporto city, when Rodrigo Cardoso began this adventure.

5 years afterwards, what do we have?
One of the best independent labels in Portugal, promoting portuguese artists as no other did before.

Old Jerusalem, Complicado, Alla Polacca, Ölga, among others, all are released by Bor Land. Choosing to promote Portuguese music, not thinking entirely on the financial results, supporting their bands on the road, selling their cds cheaper in order to reach more people, soon they became THE LABEL in Portugal.

In order to celebrate their 5th anniversary, they released the double album, "Can take you anywhere you want" (simply click on album name), downloadable for free at their site.

Have a look at all the other artists recording for Bor-Land, and discover some of the finest tunes coming out of Portugal.

Music @ PL.PT recommends Old Jerusalem, Alla Polacca, Olga, Munchen and Carlos Bica.

Olga - Money
The Old Jerusalem - To the East, Son
Alla Polacca - Astray
Carlos Bica - Softly as ....
Munchen - EP (4 track EP)

In case there is a failure when you try to download the files for the first time, refresh and try again. It should work now.
posted by SKL @ 3:10 PM
0 comments


Bandex - Rumba-hop and Salsa-dub (PT)

Rumba, hip-hop, dub, salsa, rock, jazz. All in one. All in Bandex, the self-titled debut album from this Portuguese band.

Nuno and Miguel Gelpi, started their adventures at their home studio, in Lisbon, in 2002. Later on, in 2003, Mário Moral and Daniel Meliço joined the band.

By the end of 2003, they released their debut album. In 2004, the label Chiado Records re-released the record.

Each one of their concerts is known to be an authentic party. You can check it out now, live, in 2006, in Portugal:

21 Jan 06 - Tertulia Castelense, Oporto
22 Jan 06 - Fnac Santa Catarina, Oporto
03 Feb 06 - Maus Habitos, Oporto
04 Feb 06 - Kastrus Bar, Esposende
04 Mar 06 - Santiago Alquimista, Lisbon

You can download their album right here, and the cover book on the download section @ their website.

Bandex

1. Bandex 99
2. Nite Line
3. American Flag
4. Chingón
5. Bófia
6. Blu Hotel
7. Chico Bam Bam
8. Don Kila
9. Canutito Para Sasha
10. Noches Sin Dormir
11. Johnny 2 Dedos
12. Rocanrol
13. Looking For Abrigo

Remix Section

1. Nite Line (Bandex Remix)
2. Nite Line (I-Wolf Remix)
3. Don't Think Twice, Its Allright (Bob Dylan cover)
4. Sin Semilla (Live at NetJazz Café, Lisbon)
posted by SKL @ 3:08 PM
1 comments


Maria Peszek's Miasta (PL)

Poland, 2005. Warsaw, The Palace of Culture and Science as background.

Maria Peszek sings about her city, "Moje Miasto", on her solo debud cd, "Miasto Mania".

Singer and actress, Maria Peszek awards us with a magnificent album, one of the best records coming out of Poland, year 2005.
In Miasto Mania, she is accompanied by Piotr Lachmann and Olga Tokarczuk, on the lyrics, by Wojciech Waglewski, from Voo Voo, and Emade, on the production, and, on the album, by the Waglewski family (Wojciech Waglewski, Emade and Fisz) and by the quartet "Kwadrat"

The album is electronic-pop (Moje Miasto, Nie Mam Czasu Na Seks), with her sweet voice wandering across every song. Reggae and dub over an hip pop painting (Ballada Nie Lada and SMS), jazzy atmospheres on Lali Lali, are some of the tracks that will make you love this record more and more, every time you listen to it.

The video for "Moje Miasto" can be seen here. Some of the tracks are available for a quick preview (only 30 sec excerpts). On her website, under the section "Slowa" one can listen to Moje Miasto's Big City Mix.

Album Tracks:

01) Maria Peszek: Moje Miasto
02) Maria Peszek: Ćmy
03) Maria Peszek: Mam Kota
04) Maria Peszek: Sms
05) Maria Peszek: Ballada Nie Lada
06) Maria Peszek: Pieprzę Cię Miasto
07) Maria Peszek: Czarny Worek
08) Maria Peszek: Lali Lali
09) Maria Peszek: Mgła
10) Maria Peszek: Nie Mam Czasu Na Seks
11) Maria Peszek: Miły Mój

You can as well download 3 tracks out of Miasto Mania, in here:

MOJE MIASTO
ĆMY
NIE MAM CZASU NA SEKS
posted by SKL @ 2:26 PM
0 comments


Sunday, January 15, 2006
Cansei De Ser Sexy - Electro from Brazil

CSS or Cansei de Ser Sexy, call them as you want. They come from Brazil, São Paulo, and are one of bands to watch out in 2006.

They sound like 80's electro-pop, pink and fluffy, with some raw vocals. Known for their live performances, the message around this bands soon got spread out across Brazil.

CSS are 8 friends, that didn't know that much how too play. Ira Trevisan, bass, Ana Rezende and Luiza Sá, guitar, Maria Helena, keyboards, Adriano Cintra, drums, Carol ,drums and guitar, Lovefoxxx and Clara, vocals, they are responsible for some of Brazil's freshest tunes.

Releasing their songs on Trama Virtual, soon their webpage became one of the most visited.

Trama Virtual, a part of Trama records, was supposed to be a site hosting non signed bands, with their material, but this sudden success of CSS, made Trama Vistual give the next step and release their first record.

Cansei de Ser Sexy, which can be purchased here, is their debut record. In here you can find some pearls like Let´s Make Love And Listen Death From Above, Meeting Paris Hilton or This month, day 10, playing "On the speakers ....".

If you are keen on LadyTron, Le Tigre, 2 Many Djs, then you should have a look at CSS.

Next, the album track listing and some mp3, for download:

1. Fuck off is not the only thing you have to show (demo version)
2. Alala
3. Let´s Make Love And Listen Death From Above (sample only)
4. Meeting Paris Hilton
5. Alcohol
6. Bezzi
7. Off the Hook
8. Art Bitch
9. Acho um Pouco Bom 1
0. Computer Heat
11. Music Is My Hot Hot Sex
12. This month, day 10
13. Superafim
14. Poney Honey Money

You can still download the track ódio ódio ódio, sorry c.
posted by SKL @ 1:56 PM
0 comments


Skalpel - Electronic Jazz sounds out of Poland

Skalpel are Marcin Cichy and Igor Pudlo, 2 DJ / producers from Wroclaw, Poland.

Releasing their sounds on the prestigious Ninja Tune label, they've turned the spotlight towards the Polish music scene. If you are in the mood for some The Cinematic Orchestra sounds, you'll definitely dig into Skalpel.

The year 2000 was a major breakpoint for their career. First, by touring across Poland with DJ Vadim and his Russian Percussion; later, releasing the demo CD-R titled "Polish Jazz", which not only received a lot of critical acclaim, but also led Skalpel to signing a contract with Ninja Tune.

They've released 2 albums so far, Skalpel and Konfusion, released last year. You can find some more EPs and singles meanhile, released on Ninja. All these can be found here.

Their music breathes Polish Jazz from the 60s and 70s, smooth and dark electronic beats, making it sound like modern, dark and relaxing jazz.

From the first record, Skalpel, you can check here the videos for "1958", "Break In" and "Sculpture" and the track Ninjazz, from the EP Sculpture.

Their records can be bought right here.
posted by SKL @ 12:15 PM
0 comments


Sunday, January 08, 2006
X-Wife and their "Side Effects". (PT)

Another long awaited return is X-Wife's second record. This year shall see the release of "Side Effects", on Norte Sul records.
Defining themselves as "post punk electronic rock power trio", the band of João Vieria, on vocals and guitar, Fernando Sousa, on bass, and Rui Maia, on synths and drum machine, were responsible for one of 2004's best records in Portugal, "Feeding the machine".

Having released the 3 track EP "Rockin in Rio", the eager for their debut was huge. The record came out and didn't leave anyone disapointed. Post punk rock, vocals pushed close to the limit, synthesizer, electro sounds, an 80's look, guitars bursting with energy and great life performances, all led to X-Wife being the band to look for.

After releasing a split single with Large Number and Hiem, at White Label Records, their new record is set to be released already this month.

'Ping-Pong' will be the first single, from a record influenced by the 70's disco sound.
After releasing the record, they'll embark on a national and international tour.

For those wanting to know more about X-Wife, please check their MySpace site. There you can listen to 4 tracks out of "Feeding the machine".

The track "Eno" can be downloaded here, and the video for "Rockin in Rio" seen in here.
Some more track samples available on their site, X-Wife Rocks, on the Sounds section.

You can purchase the album at Insound.

Labels: News
posted by SKL @ 2:49 PM
2 comments


Another Muppet Show

"Blogue dos Marretas - O blogue livre que não quis ser livro!"

A very funny blog, made out of what's happening in the world. Unfortunately only in Portuguese. For all those that can understand, please have a look.

Labels: News
posted by SKL @ 2:29 PM
0 comments


Dead Combo. Another return in 2006. (PT)

"

Somewhere in the beginning of the 21st century, they met around the corner, in Lisbon city. Two wanderers, one a thin "fire horse" born in 66, a loner with a top hat and wrinkled face, the other, tall, born in 1970, who came from the dark world of Jazz, starsign "dog", both swore to avenge the dead and resuscitate the living,




Influenced by Comics, they have misspent nostalgia in their pockets and the deaf soul lost in dark films. They play Lisbon, the city of the countryside, of the chimneys and of the white domes sceneries of a lost past, "fado", western wanderer everything together in a voodoo of emotions, the Tagus, the lovers that go different ways abandoned angels on the crossroads of destiny, flowers with mixed up colours, saints, flaming chambers, naked guitars, spitted and thrown to the street, basses on fire, top hats chickens on the loose and things that roll in the street. there standing against the wall in the middle of all this mess, both of them bitting apple sins, while looking at you...

" Taken from Dead Combo's biography.

Dead Combo are Tó Trips on the guitar and Pedro V. Gonçalves on bass, melodica and guitar.
They got together in 2003 in order to record a track for the tribute cd to the great Portuguese guitar player Carlos Paredes. They came up with what was known as Fado Western.

They've released so far "Vol. 1", their debut cd on Transformadores, in June 2004, and are to release their second, "Quando a Alma Nao E Pequena" still this year.

On an interview to Y, Tó Trips said that this new album won't be a "Vol.2", but neither something completely different. The record will have the contribution of Legendary Tiger Man, Marco Nunes (ex-Blind Zero), Sérgio Nascimento (Sérgio Godinho, Humanos, David Fonseca) and Peixe (Pluto, DEP).

To know more about them, check their blog or their page at MySpace. On the latter you can download 4 tracks from "Vol.1". I strongly recommend "Electrica Cadente".

Their first record can be purchased at CdBaby. Just follow the link.
posted by SKL @ 1:45 PM
0 comments


Dead Combo sound files
Labels: comics
posted by SKL @ 9:06 AM
0 comments


U-Clic (PT)

The year 2005 was a poor one for Portuguese music. Nevertheless there were some good records coming out. David Fonseca, Rocky Marciano, Old Jerusalem, Bernardo Sasseti and Sagas were some of those that helped saving what could have been a disastrous year.
2006 seems to be a bit different. X-Wife, Cindy Kat, Gomo, The Legendary Tiger Man and U-Clic promise to gives us a rockin' year, just like 2004.

This year U-Clic are to release their first record. Storming the country from Tomar, Filipe Confraria, on vocals and moog, Luís Salgado , vocals, guitar and vocoder and Gonçalo Figueiredo , VJing and back vocals, have been working on what shall be their debut cd, Console Pupils.

Their sound which takes from the likes of Kraftwerk, New Order or Adult, wonders around electro, punk and rock music.

Known for having memorable live performances, they've got a very strong visual component live. The future is all bits, 01 11000........

You can listen, meanwhile, to the 3 songs coming out of their first EP, already sold out.

"Ici in Disneyland", "Europa 2004" and "Robot'n'Roll", only available on their site, on the download section.
posted by SKL @ 3:15 AM
1 comments


Saturday, January 07, 2006
Pati Yang's "Silent Treatment" (PL)

Pati Yang was responsible for one of Poland's best records in 2005. "Silent Treatment", released on EMI Poland Music, delivers 11 songs, where downtempo beats get together with some heavy beats, all served with Pati's sweet voice.
After her debut record "Jaszczurka", she returned this time, with some special guests. Keith Tenniswood, of 2 Lone Swordmen, Stephen Hilton, Leo Abrahams and David Arnold gave their contribution to this record. The album was produced by Stephen Hilton, who has been working with Depeche Mode, Massive Attack, Moloko, The Pet Shop Boys, The John Spencer Blues Explosion, Craig Armstrong, among others.

Vocals remembering Martina Topley-Bird, Beth Gibbons or Roisin Murphy, the record is one of the best trip hop albums this year. Songs like "Soul for me", "Reverse the day", "All that is thirst" (in rotation now), "Pretty fin" takes us to the universes of Moloko, Beth Gibbons' "Out of Season", Golfrapp, Lamb or Hooverphonic.
When she was 18, she left to London. Since then, she's been working with David Holmes, David Arnold and Martina Topley-Bird. All these experiences led to "Silent Treatment". Her voice flows softly, sweetly, beats evolving from light moods to darker ones, sweet melodies, electronic beats on the run, well..... one of my favourites for 2005.
Her first single, airing On the speakers, is accompanied by a magnificent video, directed by Marta Pruska. The video can be seen here.

The cd listing:

1. Soul For Me
2. Reverse The Day
3. All That Is Thirst
4. Unquiet
5. Pretty Fin (Keith Tenniswood Mix)
6. 19:53 North West
7. Giant Cat Woman
8. Switch Off The Sun
9. 1986
10. Air Stands Still
11. Easy Flow




Labels: albums
posted by SKL @ 4:57 PM
0 comments


Andy live at Lubu-Dubu (PL)

Last December, on the 18th, Andy played live at the club Lubu-Dubu, in Krakow.
I had already posted on them on Quentes e Boas, describing their sound, but I never thought I'd see such a great concert.
First time I heard about them was on the magazine Lampa. "Nic z tego nie bedzie" was the track available on the cd. They really rocked! I started looking for more information on them but unfortunately couldn't find much more. As my Polish is still a bit poor, it didn't help as well.
Well, lets go back to the concert.
The club was crowded in order to receive Andy's last concert this year. This was quite a Xmas present.
Kasia, Ania, another Kasia and Bozena delivered one of the best rock concerts I saw in the past months. They played fast, furiously, with so much energy, as if there'd be no tomorrow.
They remember me of Hole, but there's nothing wrong with it.
The concert lasted for one hour or so, during which one could dance as much as possible.
There were some songs sung in English, though I prefered all those in Polish.
"Nic z tego nie bedzie", "Mnie", "New Order", "Feels", a new track out of Broniewski's tribute cd and one theme "dedicated" to Gazeta Wyborcza were part of their set.
The moment for Andy is now. With all these new punk-rock bands emerging, they can easily follow the path. I hope they can release a cd soon, their first, for they can become one of Poland's best acts.
The set can be found here.

Another track to download.

Andy in concert, in Wrocław 03.04.2004



Labels: concerts
posted by SKL @ 3:50 PM
0 comments