Tuesday, October 31, 2006
..... The World Is Waiting...... (PT)
It's all about love, courage and not giving up!!!
Crocodiles, whales, evil men!!!! All against our two heroes.
Regardless the obstacles, they keep fighting forth.
Cuckoo Plan
feat. Peter Hook (of New Order/Joy Division) is the way out.
Check the excelent video for the first single out of
Beat Riot,
the latest record by
Loto
.
posted by SKL @ 10:37 AM
0 comments


Monday, October 30, 2006
News on Music@PL.PT

Time keeps moving on, and so does Music@PL.PT.

From now on, every week on Music@PL.PT, we will elect the "Album Of The Week".
Whatever the record format (mp3, cd, vinyl or dvd), you'll be able to discover the sounds that have been suprising us.

This week, the honours go to Zerova's debut album

I Think We've Lost

. Soon you'll able to hear more from this band right here, at Music@PL.PT.

*
*
*
*

As well, as the year 2006 is coming to an end, we'll start gathering votes for the following cathegories:

- 2006 Top 20 albums
- 2006 Top 10 songs
- 2006 Top 10 videos

Of course, made in PL.PT. The votes have to be separated by country.
posted by SKL @ 3:02 PM
0 comments


Tricks by Novika (PL)

Novika just got herself a new record out on the market. It gives by the name of

Tricks of Life

.

For now, the video for

Tricks

, the first single out of this record, right here, "On the screen......".

Find out more on Novika on her MySpace.



Tricks of Life

will be reviewed quite soon on Music@PL.PT


Labels: News
posted by SKL @ 2:05 PM
0 comments


Sunday, October 29, 2006
Little stories by Azevedo Silva (PT)

It starts with

O Inicio

. Fingers running through the guitar. Simple, beautiful, melodic acoustic music. No vocals. Just the guitar itself..... and of course Luis Silva with his project Azevedo Silva.

The demo keeps on playing, and we arrive to

Devil Town,

a song about vampires, a story about not knowing where you are. We are taken, suddenly, somewhere close to the world of Americana. The sliding guitar, the notes slipping one after the other, softly as if they'd be whispered.


Charlie, Cianeto de potassio

and

Deserto

(these last two sung in Portuguese) complete this release.

Azevedo Silva is all about stories. Simple stories played with a guitar. Intimate songs, delicate, acoustic.

This is

Claraboia

. Get it free right here.

Labels: albums
posted by SKL @ 1:24 AM
1 comments


Saturday, October 28, 2006
Old Time Radio and Graftmann live (PL)

Last Monday was concert evening at Kawiarnia Naukowa, in Krakow.

The night was reserved to the sounds of Graftmann and Old Time Radio.

The evening kicked out with Graftmann. In the very beggining, not that many people in the room. After the first song, the room looked quite different. More people, but always a bit shy.

Graftmann is a one man project. It all began back in the year 2002 after writing some songs. As there weren't any other musicians to play with, he decided to do it all on its own.
Roman Szczpanek, a.k.a. Graftmann, sings, plays acoustic guitar, harmonica and all the instruments to be found on his self-titled debut album. Live though, an acoustic guitar and harmonica do the trick.

Alone in front of the stage and armed with his guitar and harmonica, Graftmann showed us how simple songs can sound so beautifully, so delicate and melodic, sad or happy. Playing several tracks from his debut album and some fabulous versions (

What is love (baby don't hurt me no more)

by Haddaway, was wonderfully played), his music left its perfume on the room, and showed us that this artist is set for higher flights. Tracks like

Penguins and Sharks; Half a moon for you, half a moon for me

or

Sometimes sorrow

,

sometimes happiness

are a perfect example for it.

The record itself, is a collection of recordings done by year 2002/2003 and 2005, released before on two EPs. As you listen to it, you can see ghosts of Lou Reed, Bob Dylan, Lloyd Cole or Elliot Smith wandering around each one of its tunes. As you listen to it, you can notice as well a change on his music, to better, from the material recorded back at the year 2002 and that of 2005.

"....I'm writing songs because i love music. When I'm happy, when I'm sad, when I'm sleepy. I'll take my guitar and play. It's a part of my life....."

Listen to Sometimes sorrow, sometimes happiness and Half a moon for you, half a moon for me right here.


The night continued with the "Trojmiasto" indie pop trio Old Time Radio.

With the sound not helping Magda's voice to sound as clear as it should be, this band departed in what was to be a good concert, with a very relaxed atmosphere (for that we should all thanks to Tomasz and his infinite good mood), with some precious pop tunes likened to Belle and Sebastian or Stereolab.

Throughout the concert, we were offered some songs out of their debut album, but as well from

Downtown

, their latest release. Live, their catchy, fluffy, spacy electro pop tunes become more contagious, jumping sometimes back to the early 80's electro beats, giving an astonishing new look to some of their songs.

The night, that was won by Graftmann. Not that the music sounded better or worse. Simply because he was more of a suprise to me than OTR.

Both of them are still on tour. Do not miss their concerts. Check Music@PL.PT's concert agenda for details.
posted by SKL @ 3:18 PM
0 comments


Music to dance to - The Cracow Klezmer Band (PL)

Men in black....
4 men in black.....
4 virtuous men in black....

Music to dance to!

Music to celebrate! To celebrate life and death, sadness and euphoria.

They are Jaroslaw Bester (accordion), Oleg Dyyak (percussion, accordion and clarinet), Jaroslaw Tyrala (violin) and Wojciech Front (double bass).

Back in 1997 Jaroslaw decided to form the Cracow Klezmer Band (CKB) with his smoking break fellow colleagues. Almost 10 years later, 5 albums and many many concerts worldwide.

Weepy accordions, seagulls trapped inside a double bass, frenetic violions and amazing percussion. This is but a few of what CKB is capable of. Their sound breathes balcan-like music, Jewish music, gloomy tunes, jazz and folk music.

These four magnificent musicians released this year

Balan,

another volume to John Zorn's Masada project, on the Tzadik label. Live, all their music becomes so intense, with such energy and emotion, mainly due to their dedication, that every song is transformed into a very unique moment. It is as if music could fly away, spread its wings and land closely by your side, surrounding you with warth and a cosy feeling.

Their albums can be found at any internet music store.

Out of Balan: Book of Angels Vol.5

Haniel
Zuriel
Suria
Aniel

Out of

De Profundis



Balkan Dance

You can find more mp3s at their multimedia section.




Labels: albums
posted by SKL @ 1:56 PM
1 comments


News Bulletin (PT)

Jesus, The Misunderstood are to release

Thinking Too Much Increases the Risk of Smoking,

the follow-up to

Loving in July, Dying in August

.

Miguel Pereira, Luis Nunes, Pedro Giro, Manuel Dias and Tiago Sousa continue delivering us superb indie rock, folk influenced pop songs with a flavour to The Velvet Underground or even the Beach Boys.

For now, they offer us the magnificent

Oh no

and

April.

These two tracks can be found at their MySpace.

Catch them live at

11 Nov. @ Sociedade Guilherme Cossoul, Lisbon, together with Noiserv
15 Dec. @ Mercado Negro, Aveiro, together with Goodbye Toulouse
16 Dec. @ Whisky Bar, Braga, together with Goodbye Toulouse

*
*
*

Watch out!!! One of 2006's most expected albums is to hit the stores soon.

A. Henriques (on vocals and guitar), C. Guerreiro (on bass), H. Morais (on drum), P. Geraldes (on guitar) and S. Lemos (on guitar) are Linda Martini.

Olhos de Mongol

, is their first album after the debut 4 track EP. Expect no less than pure rock, with a touch of punk, perfectly sung in Portuguese.

Unique!!!

Listen to

Cronografo

, the first single out of

Olhos de Mongol

.

Get to know some more of their music right here.

*
*
*

Balla.

Armando Teixeira is back with another project of his. This time, this gifted artist brings us

A Grande Mentira

, thought to hit the stores this November.

With guests Joana Mateus, Paulo Souza, Silvie C and DJ Nel Assassin, Balla takes us to the world of pop music with delicate electronic beats, to the world of red neon light cabarets, blinking an eye to la chanson francaise.

Grab a cigar, put on your black long jacket, and come outside to the dark foggy night.

Serge Gainsbourg, Roxy Music, Leonard Cohen,.... they all inhabit in this planet called Balla.

Here the video for

O Fim da Luta

, the first single out of

A Grande Mentira

.

posted by SKL @ 8:45 AM
0 comments


Kita Essa Dama - Cool Hipnoise are Back (PT)

The cool gang is back.

Francisco Rebelo, Tiago Santos, Joao Gomes and all hip troppers, Hugo Menezes, Marco Alvez, Marga Munguambe and Milton Gulli, are back with the single

Kita Essa Dama

, previewing their next studio release.

After the 2005 Best Off

Groove Junkies

, Cool Hipnoise return with their funky jazz, soul, reggae and dub machine.



Kita Essa Dama

, starring Marga Munguambe and Milton Gulli on vocals, delivers us a reggae, ska influenced track with roots down to Brazil and Africa, that easily gets our head bouncing, our feet jumping, and us singing along

Kita Essa Dama

.

This collective which dates back to the year 1995, has released so far

Nascer do Soul

,

Groove Junkie, Musica Exotica para Filmes, Radio e TV,

which gathered the likes of producers Luke Williamson, Ralph Drosemeyer and Nick Manasseh, and artists such as Fernanda Abreu, Last Poets, Sonia Tavares, we are invited once again to step in this frenetic music machine.

Get to know more of their music on their online Jukebox.

Catch them live in Lisbon on

02 Nov. @ Cinema Sao Jorge and
06 Nov. @ Casino Lisboa
posted by SKL @ 7:27 AM
0 comments


Sunday, October 22, 2006
Psycho Killer???? No, Psychocukier (PL)

"Apart from several interesting groups/performers in different musical genres, we are inspired by everyday objects around us: freezers, radios, TVs, car alarms, telephones, remote controls etc. We are also inspired by the DIVERSITY and MANYNESS of experience, shapes, colours, bends, curves, straight lines, underwater noises. We love multicoloured lights, cheap second-hand clothing, found words and found sounds, expanded minds, things that buzz and things with 3 halves (although we've yet to find them)."

Noisy, experimental, fast, furious, dirty,... fucking dirty...... This is the sound of Psychocukier. Since 2001, this Lodz based trio has been spreading the sound of their noisy guitars, distorced vocals, their post-punk and rock attitude across Poland.

The ones to blame give by names of Sasza Tomaszewski (vocals and guitar), Marcin 'awaria' Awierianow (drums) and Piotrek Poloz (bass).

Now, they're back and ready to take their music down to the street. Watch out!!! Psychocukier are to pay you a visit on the following dates:

26. 10. 2006 - Krakow @ Sw Krowa
27. 10. 2006 - Czestochowa @ Utopia
28. 10. 2006 - Gomunice @ Bogart
03. 11. 2006 - Wroclaw @ Salonik, (a Indie Sounds Night event)

Do not loose this chance!!!!!

Blast your speakers right here.

Harry J (high. rec.)
Malpy morskie i krawat milosci (excerpt)
Czesciowa awaria podstacji (excerpt)
Spiacy pies
Placki z bananami
Atak wiezowcow

Tks to Indie Sounds Night for the hint.
posted by SKL @ 3:32 PM
1 comments


Saturday, October 21, 2006
"Iskrzy, Iskrzy" or the electro pop from PL

Husky are back with the EP "Iskrzy, iskrzy", taken out from their forthcoming album Zgadnij. This Wroclaw based electro pop duo will release this year, via 2-47 Records, the follow up to the aclaimed debut album Czy Slyszysz.

DJ Patricia and Jacek Dojwa are back with their minimal electronic beats, delicate pop melodies, fragile vocals and tempting dancing tunes. This first song takes us to the musical ambients of cold Scandinavia. I know we're talking Poland, but I can't forget names such as Annie, Moa or Bjork, as I listen to their music.

The long three-year wait has finished. Welcome to Iskrzy, iskrzy.

1. Iskrzy Iskrzy !!! - radio Edit
2. Instrumental
3. Itoa mix
4. Agim mix
5. Loco Star mix
6. Stealpot mix

Check the video for this track " ..... on the screen"
posted by SKL @ 3:26 PM
0 comments


Thursday, October 19, 2006
Veados com Fome & Green Machine live (PT)
Green Machine
On the 20th and 21st of October, Veados com Fome and Green Machine will be playing live with the Spanish fellow hermanos,
Thee Tumbitas
and Los Abrasivos.
Audiencia Zero is back with
Eixo Norte-Galiza
, a project set up to support Portuguese and Spanish bands, coming from Galicia.
This time,
Green Machine
will take their music, first, to La Guardia and then to Santiago de Compostela, playing together with the Vigo band, Thee Tumbitas.
Veados com Fome (VcF), on the other side, will be playing in Oporto, together with Los Abrasivos.
For those that do not know VcF, let me warn you!!!! Expect nothing but guitars and drums.
This trio will take you in a voyage where you'll explore the power, the noise, the music and the experimental sounds coming out of a drum set and two guitars!!!!!
Hailing from Santo Tirso, this trio has been taking their sonic commandments around the country. Once again, you have the chance to embark on a trip that will not leave you indifferent.
Have a preview of their sound, right here.
Green Machine - Tales from an expectant pussylicker
Veados com Fome - Sandes
posted by SKL @ 12:55 PM
0 comments


Sunday, October 15, 2006
The October Leaves and The Ossis, Live @ B-Side (PL)

Friday night, was concert night in Krakow.
Now, that the Autumn has arrived and the concert season started, this means, the chance to go and check some fancy concerts and get suprised now and then.

It was exactly this that happened last Friday, at the B-Side club, in Krakow.

Two Polish bands, two new Polish bands. From Rybnik, The October Leaves, and from Wroclaw and Gorzow Wlkp., The Ossis.

Both of them are in a similar situation. They've been touring, but so far, no record available. You can find some of their material at their MySpace for now.

The evening kicked out with The October Leaves. Drinking inspiration from bands such as Stereophonics, Oasis, Babyshambles, Ride or Travis, their music sweats brit-pop, shoegazing, indie or some more melodic tunes, scratching here and there some other pop bands from Scandinavia.

Vocals and rhythm guitar, with Mr. Kamil Bartkowiak, lead guitar and backing vocals, squeezed by Mr. Szymon Bartkowiak, Bass guitar, handled by Mr. Adrian Wuwer, and finally, the drums, punished by Mr. Piotr Szopa.

With only demo material recorded so far, this band can point their batteries to higher goals, as their music can easily be heard in Poland, Germany, England, well ........ wherever.

Back to the concert now.

So, the band started playing to 5 persons at the time. I guess that as normally concerts do not start on time, people get used to appear later on. Luckily for all of us, everyone joined the concert right afterwards.

I was a good concert, with some good music being played on. I got out of the concert with the certainty that as soon as they get an album out, their songs will be airplayed easily, and their music known throughout the country.

In case you don't believe it, just have a look at the track

10 seconds of love

, and then, judge it for yourself. Get to know another track,

Duplicity,

at their Myspace.

Now, back to the second act.

The October Leaves were gone, and now it was time for The Ossis, another band in their first steps, but to whom playing live is not a problem. At least, this was the feeling I got after their concert.

Singing mainly in English, their musical universe embraces pop music, the blues, rock, indie and sometimes country music, but always with some guitars giving an extra touch to each one of their tracks.

Janek Samolyk, on vocals and guitar; Przemek Nieciejewski, on bass guitar; and Szymon Cybulski, on drums; played with such an enthusiasm, transforming this concert into a party.
The music, this was played fast, with more guitars, but still quite melodic. Each track was extended and freedom was given to improvisation.
Among their original tracks, two versions were played. A track by the Sex Pistols and a classic, brought to life by the Swedish band Rednex, i.e.

Cotton eye Joe

.

As The October Leaves, this is a band to keep an eye on. Lets wait for some new material. Nevertheless, they have to improve the pauses between each track.

Discover them right here. Pay a visit to their site and listen to the tracks

Tak bardzo nie chce

and Zagarysta.



Rush hours
Stop thinking
Anybody home
I ain't gonna give up




Labels: concerts
posted by SKL @ 11:11 AM
0 comments


Ready! Set! Go! ...... And they're off.... (PT)

Sometimes there's only one way out! No looking back!!! Run fast, as fast as you can!!
Eyes closed, heart beating wild, sweat coming out of every pore, no time to rest.

You put the speakers at maximum volume. Loud, loud and again, loud. It can only be played this way!!!

These might be the symptoms one feels once playing

Ready!Set!Go!

on the cd player.

27 minutes of music. 27 minutes that you will want to repeat, over and over again.......

The album kicks in with

I Can't move (but my head runs like a horse)

, the album's first single. Catchy chorus, guitars played fast, dirty and noisy. After this track, there's no switching off.

Summer boys

continues in the same mood. In case you didn't surrender after the first track, you should be pretty convinced by now. Still, you've only gone through the first two tracks. There's five more to go.

My world got itself in a hurry, Private disco, Temporary insanity, Arabian princess

and

Lady 666

will not let you take a break!!!

Joao Guincho, on guitar and vocals; Paulo Franco, on lead vocals and guitar; Joao Leitao, on vocals and bass; and Pedro Cacao, on drums, released this year an album that breathes melody, punk and rock music; that crosses references such as Black Sabbath, Queens of The Stone Age, Kyuss, Clash or Fu Manchu, among many others. All this is mixed thouroughly, as if it would concern a potion preparation!!!

Their music is to be listened loud and non-stop. Each track grabs you in such a way that you cannot stop dancing, you cannot resist it.
You feel the music coming out of the speakers! You fell the adrenalin going up! You feel like jumping! You feel like screaming!!!! You feel .......... Ready!Set!Go!

In case you want to know more on Dapunksportif, have a look at the following 2 tracks, or visit their Myspace.
You can get their debut album at Rastilho Records or here (in english).

I Can't Move But My Head...
My World Got Itself In a Hurry
posted by SKL @ 4:11 PM
1 comments


Who the hell are The Vicious Five (PT)

"Who the hell are The Vicious Five?

Who the fuck are we?! We don't know. Five friends. Five punk kids. Five short attention spans. Who cares?! There are more than five thousand answers for that question, none of them accurate or entirely true. Why should we want to answer that question? You answer it. You hear our music. You come and see us live. Come and have a beer with us. Tell us what you think."



There's no better introduction to The Vicious Five than theirs.

Rui, Edgar, Paulo, Bruno and Quim delivered us

Up on the Walls

last year. 11 tracks. 11 damn good tracks. Call it whatever you want. Rock 'n' Roll, post punk, rock,..... They are all this and more.

Their music is served in dirty plates, cold and raw, down to your face. Guitars, bass and drums. Vocals straight from hell. Screamed out, on the edge, powerful, so powerful. Words of command, revolution, rebellion and pleasure.

"... get on your knees, it's time to please...." or "..... bring on the guillotine, bring it on..."

They're 5. They rock hard and fast. They show no mercy.

They're The Vicious Five!!!!

Catch two of their tracks right here. For more, visit their MySpace.

Bad Mirror
Fallacies and fellatio

Don't let their old funny faces trick you.

Their album can be bought right

here

or on the following online stores - iTunes, emusic, Napster or Juno.co.uk.
posted by SKL @ 6:25 AM
0 comments


Stories with a sountrack - Erro! (PT)



"Era uma vez um rapaz, o rapaz maravilha, que tinha um chapeu amarelo, um chapeu magico!


Todos os monstros e gatos maus que lhe apareciam em sonhos temiam o chapeu magico, como tal, nao havia pesadelos!....."


Stories with a soundtrack!
A soundtrack made out of words!

Children stories, weird stories.

Stories on ice melting and on yellow hats......
Stories on magical forests and on saints.....

A computer. Electronic ambients. Melodic, loose, out of control. Repetitive, just like in a fun fair. Somehow experimental. Hipnotic guitars, dragging themselves throughout every tale.



Isto e o que, mae?,

with

special appearance by Adolfo Luxuria Canibal, is Erro!'s debut album. After a couple of mp3 releases and demos, we are offered an album of stories, of experiments.

I was supposed to have written on Erro!, or Joao Palma, long ago. But, I was always postponing it. Finally, it happened today.

Find some of his work right here, ready to download, at his MySpace and still at his homepage.

Out of

Isto e o que, mae?



Vai
Uma senhora

..Extras

I won't dress funny anymore (with L. Costa)
Army of me (Bjork cover)
posted by SKL @ 4:43 AM
0 comments


Friday, October 13, 2006
Yah!!!!!! The phenomenon went video (PT)
Buraka Som Sistema are back! This time they came along with Petty.

Watch the video for

Yah!

,

the first single to come out of the EP

From Buraka to the World

.

Enjoy it!!!! Yah!!!!!


posted by SKL @ 4:40 PM
0 comments


Sunday, October 08, 2006
Other Stories that should not be forgotten (PL)

October saw the release of "Other Stories", the new 6 track mini album by Anita Lipnicka and Jonh Porter.

Six stories that should not have been forgotten found their way on this 33 minutes long release.

Chelsea Hotel

#2, by Leonard Cohen, and

Love Song

, by The Cure, are two of the six tracks to be found here, alongside with other 4 live versions -

Such a shame

, the last single out of

Inside Story,

their latest album,

Bones of Love,

For you

and

Flame.



Rock with traces of country folk music, delicate pop melodies, mellow, sad and melancholic. Music with a taste of The Walkabouts (Chris Eckman produced their last album), Neil Young, Leonard Cohen or Bob Dylan.
This is to be found not only here but as well on their previous albums,

Nieprzyzwoite Piosenki

and

Inside Story.



Discover the music of Lipnicka and Porter. Discover how Other Stories can be reveal you so much.

From

Other Stories

, and for a limited period of time,



For you



From

Inside Story



Black hand Death of love (preview)
Such a shame

(preview)
You never know (preview)
Hold on (preview)


From

Nieprzyzwoite Piosenki



Bones of Love (preview)

If you've liked it, get their album right here, at 7 Digital or at this Polish megastore.

posted by SKL @ 12:14 PM
0 comments


Wednesday, October 04, 2006
After all, it is that easy...... (PL)

We're back to year 2002. One year was gone since I started discovering the sounds coming from PL.

There's not that much Polish music being played in Portugal, and, as well, Portuguese in Poland.

But that year, something changed......

One day, on my way to work, Radio Radar (PT) played a song by a band I knew. But somehow it was sounded different. It looked like their sound but they were singing differently.
Still, it was that melodic and melancholic pop music, that indie rock, that voice, that........

After all, it was indeed Myslovitz. But this time, singing in English.



Korova Milky Bar

was the record that brought Myslovitz the recognition they deserved long ago. It was the record that took their sound all around the world, and specially to Portugal.

This year, the band of Artur Rojek, on vocals and guitar; Wojtek Powaga, on guitar; Przemek Myszor, on guitar and keyboards; Jacek Kuderski, on bass; and Wojtek Kuderski, on drums and percussion, brought us another magnificent album,

Happiness is Easy

, where you're taken throught the sounds of Bowie and his Ziggy Stardust, where you have the chance to say

"hi"

to some electronic sounds, where a dreamy and inteligent

"tra la ra"

pop is happily saying "present". Everything, of course, served with their unique rock sound.

This is one of Myslovitz' best releases so far, where pop and rock music are explored further to deliver us 13 extraodinary tracks.

Take you time and discover yourself, that after all.....

Happiness is Easy.

Find more on Myslovitz at Wikipedia or at MySpace. Their albums can be ordered here.

Download, for a limited period of time,

Zle Mi Sie Sni

, right here, at Music@PL.PT.

Check as well

on the screen.....

, the new video for

Nocnym pociagiem az na koniec swiata

.

posted by SKL @ 12:18 PM
1 comments


Sunday, October 01, 2006
Robot Fairy Tales by LEM KonZept (PL)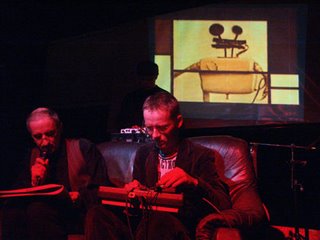 Here every word is important.....

Here every bit "0110011001" is important.....

Jacaszek will perform this evening at Swieta Krowa, Krakow, under the name of LEM KonZept. This is a project where electronic music ambients draw a soundtrack for the stories of Stanislaw Lem.

Excerpts are read from Lem's book "Robot fairy Tales" while Jacaszek invades the room with his electronic, dreamy and fairy-tale like melodies.

Be prepared......

Tonight the robots will take over!!! At 21h00 at Swieta Krowa, Krakow.

In order to know more about Jacaszek's projects, have a look at his webpage.

You can download the track Automateusz right here.
posted by SKL @ 4:15 AM
0 comments