Sunday, October 01, 2006
Robot Fairy Tales by LEM KonZept (PL)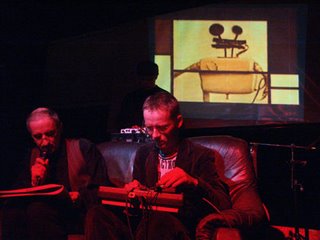 Here every word is important.....

Here every bit "0110011001" is important.....

Jacaszek will perform this evening at Swieta Krowa, Krakow, under the name of LEM KonZept. This is a project where electronic music ambients draw a soundtrack for the stories of Stanislaw Lem.

Excerpts are read from Lem's book "Robot fairy Tales" while Jacaszek invades the room with his electronic, dreamy and fairy-tale like melodies.

Be prepared......

Tonight the robots will take over!!! At 21h00 at Swieta Krowa, Krakow.

In order to know more about Jacaszek's projects, have a look at his webpage.

You can download the track Automateusz right here.
posted by SKL @ 4:15 AM