Thursday, April 27, 2006
Stealpot - Jazz soundz of tomorrow (PL)

Szymon "Stealpot" Folwarczny released last year "Mass Mess.Age". Together with Pati Yang's "Silent Treatment" and Maria Peszek's "Miasto Mania", this was one of the best Polish records to come out in 2005. Unfortunately, it only arrived to us one year later.

Imagine Skalpel, DJ Krush, Cinematic Orchestra,... altogether with some downtempo beats, atmospherical sounds and relaxing jazzy melodies. What do you get? Stealpot.

With just 19 years old, this youngster from Katowice, took the new sounds of Poland a step forth. His aclaimed debut (!!!!) album can be found already in the UK, USA or even Japan. It is quite hard to believe, as we listen to this record, that this is, in fact, his first release ever.

Here are some previews for some of the tracks coming out of "Mass Mess.Age". The tracks (as full version) can be listened @ Stealpot's Sound Section.

01. I'm not under control
02. Mass Message (Highly Recomm.)
03. Narrow Guage Train
04. Amazing Night In Eternaltown
05. Pursuit 06. Last Soar feat. Essence
07. Keynote
08. CHain Reaction
09. Stealing The Pot
10. Soda
11. Foze

Bonus track - "Stealing the Pot (Alkora Remix)"

You can order the album at Vivo Records.
posted by SKL @ 2:40 PM
1 comments


Radio Bis and "Od Czapy Zestaw 2" (PL)

Radio Bis, bardzo inna stacja or, a very different radio station, brings us "Od Czapy Zestaw 2" - a compilation with some of the newest and most interesting bands to come out of PL.

The album is organised by genres and it goes from one genre to the next quite smoothly. Well, I've already listened to the album and recommend it strongly.

Strach na Lachy, Farben Lehre, Habakuk, Afro Kolektyw or Kanal Audytywny are some of the artists to be found on this compilation. With a total of 22 tracks (22 projects) there's plenty of new music to discover.

The cd can be found, as usual, right here. And as we are talking about promoting Polish artists, the cd can be purchased for less than 5 EUR.

Preview for all the tracks

MR. IDOL – Angel
LENIWIEC – Pieśń o Hansie Klossie
AKURAT – Balet
KONIEC ŚWIATA – Granat w plecaku
STRACHY NA LACHY - Czarny chleb i czarna kawa
OLAF DERIGLASOFF – Perełka
B.E.T.H – Nie przemocy
HUNTER – Pomiędzy niebem a piekłem
FARBEN LEHRE - Terrorystan
VAVAMUFFIN – Nigdy
INDIOS BRAVOS – Samo nic
HABAKUK – Zostanę politykiem
CINQ G – Hooligani miłości
MACIORA – Dancehall Queen (feat. Marika, Frenchman, Breku)
OLSENFU – Perspektywy (feat. Pablopavo, Mahdi Mesrine)
AFRO KOLEKTYW – Trener Szewczyk (feat. Duże Pe)
KANAŁ AUDYTYWNY – Klinika psychoromana
O.S.T.R. – O robieniu bitów
HAIKU FRISTAJL – Kazik
NOVIKA (CLS + Wax) – Hate Love
WET FINGERS – Nu Limit (DJ Adamus & Mafia Mike Mix)
HUSKY – Iskrzy iskrzy
posted by SKL @ 12:35 PM
0 comments


INDIELISBOA - Daniel Blaufuks
The first film of Daniel Blaufuks repeats today at IndieLisboa. Blaufuks is one of the great contemporary Portuguese photographers. Click
here
to an overview of his work in photography and photography-related installation work, set design, video and film.
Slightly Smaller Than Indiana
is a road-movie about Portugal and its landscapes and cities. The title becames from the fact that Portugal is slightly smaller than the USA state Indiana.
In a melancholic way, Blaufuks shows his disenchantment about Portugal. The film was mostly shot at the areas involved in the European Football Cup of 2004 that took place in Portugal.
It's the only Portuguese film in competition. Original music by
Dead Combo
"Last Summer, I traveled across Portugal to shoot my project: a road-movie about a country that can be crossed in six hours from north to south and just one hour and a half from east to west. The landscape we passed through, (camera) João Ribeiro and I, was the post-Euro 2004 Portugal, with the provisional government of Santana Lopes about to take office. It is a country that still seems like the idea we all have of "our homeland", but which actually no longer corresponds to reality and is becoming almost unrecognizable, as in a postcard. It was this notion that led me to want to make this film, and this journey in an old Mercedes named Rocinante, eventually confirmed it, sometimes in an alarming way."
by
Daniel Blaufuks
posted by Carlos Ramos @ 7:07 AM
1 comments


Wednesday, April 26, 2006
When Poland visits Germany

In case you live in Germany, in Berlin to be precise, do not miss Terra Polska Vol.2. It started last Monday, the 24th of April, and will continue until the 29th of April.

Terra Polska Festival is an event where music, art, theater, cinema and literature get together in order to bring you the best coming out of PL.

Myslowitz, Pidżama Porno, Lao Che and Sidney Polak are some of the artists you can check live. The program is available right here.

The Festival will take place @ the Kesselhaus/Kulturbrauerei, Knaackstr. 79.

Have a nice festival.
posted by SKL @ 2:58 PM
0 comments


IndieLisboa - Lech Kowalski: Rebel with a cause
from Diary of a Married Man
from East Of Paradise




The third edition of IndieLisboa doesn't have any film from Poland. However there are two films of a director with Polish seeds: Lech Kowalski

Lech Kowalski is a major figure in the American underground. From porno to punk, from fiction to documentary, Kowalski is there for the outsiders. The edge of society.

In the Observatory section of the festival, "East Of Paradise" appears as reflection about identity. Thirty years later , Kowalski invites his mother to recall her past, a history that is also his own. The film is divided in two episodes. Two life stories. Kowalski's mother and Kowalski himself. Who are we and why are we like this ?

In the Lab section: "Diary of a Married Man". A moment of reality in three acts, not all just mere provocation, quite the opposite. Without a care, throws taboos in our face and is intentionally shocking.
posted by Carlos Ramos @ 9:27 AM
0 comments


Monday, April 24, 2006
A bit too late, but here they are.... The Prostitutes (PT)

Get your cowboy boots and leather jacket on. Step inside the bar. The band is playing. Get youself a beer...... and sing along.

Elvis is around us, so is rock'n'roll....... and The Prostitutes.

Filipe, on vocals and lead guitar, Oscar, on rhythm guitar, Pedro, on bass, and Ivo, on drums, are storming the country from their home town, Oporto, bring us the 60's, rock'n'roll....raw, melodic, as it should be.

Get their EP free of charge @ You Are Not Stealing Records, or just follow the links bellow.


The Prostitutes - Live at Porto-Rio (Cover: Front / Back)

01 Hungry (Highly Rec.)
02 Strange Love
03 Nitrus
04 Squad Car
05 Dragster
06 Ace of Spades
07 Give It To Me
08 Mr.Pharmacist
09 I Can Only Give You Everything (Highly Rec.)
posted by SKL @ 3:18 PM
0 comments


Friday, April 21, 2006
Corsage - Music for pirates in a saloon bar (PT)

Corsage are Pedro Temporao (bass), Henrique Amoroso (vocals, sax and percussion), Fred Cunha (percussion and drums), Carlos Santos (keyboards), Goncalo Botelho (guitar) and Nuno Damiao (guitar and trompet).
They belong to the same universe as Cousteau, Tindersticks, Tom Waits, Raindogs or the Go-Betweens do.

Recently they made their self-titled debut EP available for free download. As they had a small amout of copies, this was the best way to let everyone get to know their music.

You can download the tracks right here, or simply by visiting their webpage.

EP Corsage

01 - The Getaway

02 - Love Is a Pirate

03 - Wedding By The Mall

04 - Ride On My Cortina

05 - God Save McQueen

06 - La Strada Suite

07 - Friendly Sun

08 - You Suicide Me

You can find as well, 2 other tracks from the tribute album to Scott Walker and their 2005 demo, Por Estes Dias.



From Angel of Ashes – Tribute to Scott Walker

From Por Estes Dias

Por Estes Dias
posted by SKL @ 5:45 PM
1 comments


No Data - New electronica from (PT)

Carlos Maria Trindade (Madredeus, Herois do Mar, Corpo Diplomatico) is back with a new project. This time, he got together with Luis Beethoven (Opera Nova, Fantásticos Abridões da Selva...) for No Data. The album, "Musica Naive", can already be found at the stores.

The album breathes smooth ambients, endless voyages, modern atmospheres ............ here and there, vocals perfume these tracks, giving them a different scent.

Carlos Maria Trindade, synths and programming, and Luis Beethoven, programming, prepared the ideal travel guide for each one of us. Sit back and relax. Make sure you seat belt is fasten. We are ready to take off.

Here you can listen to some samples out of this record.

01. Vivo Deste Quase Nada (com Teresa Salgueiro e Francisco Ribeiro)
02. Lago da Paz
03. Heaven on Earth (it's so difficult)
04. Ma Voix
05. Angustia del Sagrado
06. Espirito Santo dos Acores
07. Cult of Tea
08. Verao Indiano
09. White Noise (batucada)
10. Africa em Lisboa
11. Hino ao Vento
12. Viagem a Plutao
13. Bebe Nirvana
14. Sleeping Cats

The album is accompanied by an extra DVD with 4 videos for Cult of Tea, África Em Lisboa, Hino ao Vento, Viagem a Plutão, directed by Edgar Pera, Jose Pinheiro e Joao Carrilho.
posted by SKL @ 3:17 PM
0 comments


Pati Yang live in Poland (PL)

Pati Yang will be playing live, on the 9th of June, at the Legia Stadium in Warsaw, supporting Depeche Mode. This will be a good chance to catch live the artist responsible for one of Poland's best releases last year.
In case you haven't heard her yet, please check her @ MySpace where you can listen to 3 tracks from "Silent Treatment" or listen to "Soul Treatment" and "Pretty Fin" on the Jukebox, right here at Music@PL.PT.
posted by SKL @ 3:01 PM
0 comments


Thursday, April 20, 2006
Indie Lisboa 2006 - 3rd International Independent Film Festival (PT)

It started today. From the 20th of April until the 30th, Lisbon will be taken over by Indie.

On its 3rd edition the festival grew further, now taking place at King Cinemas, Forum Lisboa and Londres Cinemas. More than 200 films to be shown, more than 17000 visitors expected.

Special attention to the Independent Hero Section which will be dedicated to four film directors: Edgar Pera, Michael Glawogger, Jay Rosenblatt and Nobuhiro Suwa.
We strongly recommend having a look at the works of Edgar Pera, specially on his latest work "Movimentos Perpetuos - Cine tributo a Carlos Paredes".

The festival will still include the following sections:
International Competition, Observatory (for shorts and features), Laboratory (the new territories of filmmaking), INDIEJunior (Special competitive program intended for the youngsters) and the Special Programming with IndieMusic, 90 Years of Swedish Short Films, .......

Have a quick look at the festival calendar. Do not miss it.
posted by SKL @ 3:04 PM
0 comments


Movimentos Perpetuos - Cine Tributo a Carlos Paredes (PT)

On Saturday, the 22nd of April, will premiere the documentary "Movimentos Perpetuos - Cine tributo a Carlos Paredes" by Edgar Pera.

The doc. will be first shown this day at Forum Lisboa by 21h30.

But who was Carlos Paredes? To make it short, Carlos Paredes was one of the best Portuguese Guitar players ever. He played with Charlie Haden, Krosnos Quartet, among others.

In case you'd like to know more about his work, please check the jukebox for 3 originals and 4 versions by Sam the Kid, Rodrigo Leao, Bullet and Belle Chase Hotel.

The track "Verdes Anos" can be downloaded here for a limited time. You can also buy his work, just following this link.

Labels: cinema
posted by SKL @ 1:15 PM
0 comments


Monday, April 17, 2006
AfryKamera - African Film Festival in Poland (ANG, PL)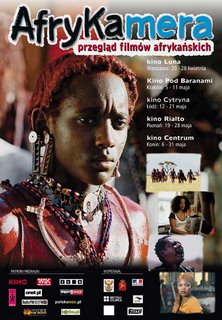 For all you wanting to discover more on African cinema, do not miss Afrykamera.

With around 20 films to be shown, Music@PLPT recommends the superb film "Na Cidade Vazia", or "HollowCity", from Maria Joao Ganga, Angola.

The festival will visit the following cities in Poland:

20-28.04.2006 - Kino Luna (Warsaw)
05-11.05.2006 - Kino Pod Baranami (Krakow)
12-21.05.2006 - Kino Cytryna (Lodz)
19-28.05.2006 - Kino Rialto (Poznan)
06-31.05.2006 - Kino Centrum (Konin)

To know more about the films to be shown, download the following file.
posted by SKL @ 2:16 PM
1 comments


3rd Animated Film Festival - ReANIMACJA (PL)

From the 21 to the 23rd of April, 2006, Lodz will host the 3rd Animated Film Festival ReANIMACJA. The festival will take place in Charlie cinema (Piotrkowska Street).

The festival will open with "Ichthys", Marek Skrobecki's latest animation short film. The program will include then films from Ireland, Estonia, Hungary, Spain, and a retrospective on the Polish directors Mariusz Wilczynski and Zdzisław Kudla.
posted by SKL @ 1:59 PM
0 comments


Wednesday, April 12, 2006
A Bonde do Role (BR)

If you are into Cansei de Ser Sexy you really have to listen to Bonde do role.

D'eyrot, MC Marina Ribatski and DJ Rodrigo Gorky have been recently signed to Diplo's new label, mad decent.

In their new 5 track E.P., they take baile funk a step forth. Imagine AC/DC getting together with Alice in Chains, and still with friends Europe, and having their material reviewed with some heavy bass sounds, wild screaming vocals and some of the best funk coming out of Brazil? Confused?

So check these tunes and judge it by yourself.

Bonde Do Role - "Esfiha" (Ghetto Ass Curtis Vodka rmx)

Bonde Do Role – Melo Do Vitiligo (mp3)

Bonde Do Role – Melo Do Tabaco (mp3)

As they're touring currently, you can check them in a city nearby. Just follow the link.

Labels: News
posted by SKL @ 2:48 PM
0 comments


2nd Annual New York Polish Film Festival (PL)

The 2nd NY Polish Film Festival will take place already next month. Starting on May the 5th, until the 12th, there will be the chance to see some of the best Polish films to come out recently.

Moj Nikifor (My Nikifor), Tulipany (Tulips), Wesele (Wedding), Oda do Radosci (Ode to Joy) and Komornik (The Collector) are some of the films to be shown on this occasion and those strongly recommended by Music@PL.PT.

There will be the chance as well to see the documentary on Krzysztof Kieslowski, "A Conversation with Kieslowski", directed by Andreas Voigt.

The festival will take place in several locations in NY. Please check these locations here.

In order to have the complete program, please follow the these links - English version and Polish version.
posted by SKL @ 1:51 PM
0 comments


X-Wife and their "Side Effects" (PT)

X-Wife are back.

Left, right,... right, left,... left, right,............. this is "Ping Pong", the first single to be released out of "Side Effects", their second album.

You can listen to the track here, @ their Myspace site, check the video here or just download the single here (for a limited period).

The track is quite addictive. Starts off with a subtle beat, keeps building up, synths and vocals get loose, and then, a solo that if you're not dancing already, for sure, you won't miss this chance.

You can buy the album here, unfortunately, just in portuguese (for now).
posted by SKL @ 12:33 PM
0 comments


Monday, April 10, 2006
Cool Kids of Death are back (PL)

While their latest album "2006" does not get to my hands, I let you with the video for this album's first single, "Spaliny".

"2006" will be reviewed quite soon.

Meanwhile, you can find Cool Kids of Death on tour, in a city near you:

19.04 Bialystok, klub Gwint
20.04 Tarnow, Tarnowskie Centrum Kultury
21.04 Rzeszow, klub Pod Palma
07.05 Opole, MOK
08.05 Zielona Gora, Kawon
09.05 Wroclaw, WZ & New Model Army
10.05 Poznan, Zamek
11.05 Gdynia, Ucho
12.05 Slupsk, MCK
13.05 Koszalin, Juwenalia
14.05 Kolobrzeg, Latarnia Morska
15.05 Szczecin, Hormon
16.05 Gorzow Wlkp, Magnat
18.05 Krakow, Studio
19.05 Bielsko-Biala, Rude Boy
20.05 Myslowice, MCK
21.05 Sosnowiec, Antidotum
22.05 Czestochowa, Utopia
27.05 Lodz, Luka
posted by SKL @ 3:29 PM
0 comments